For years, I've stayed away from cosmetics, mostly because I had a not so pleasant exposure to the effect of everyday makeup use. It involves a sleepover and an awkward beauty and the beast transformation that haunts me till today. As I've gotten older, I've learned to appreciate the effective use of makeup. I am glad, I waited to start my discovery. Or maybe it's because I've aged and now have a few wrinkles I need to hide, whatever the reason I am glad I'm finally on board with what most women discovered years ago. MAC was my first makeup, and it wasn't by design. When I was finally ready, to venture out into the makeup world. I went to Macy's so someone can walk me through the basics. Two hours and over $200 later I came home with a starter kit that had all the essentials – M.A.C studio stick foundation, powder, mascara, foundation brush, powder brush, and a lipstick. I've since learned to venture out and experiment on my own, so my collection has grown since then. Overall I am glad I'm finally putting in the effort to enhance my natural beauty. So today I present to you my current beauty favorites:
Favorite Makeup Finds
I would love to hear from you, what are some of your favorite makeup finds? Do you have a mascara or foundation you can't live without, would love to hear your thoughts?
This week I am linking up with: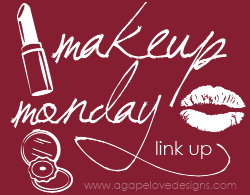 Disclosure: This post contains affiliate links, which means if you purchase something I might make a few cent or dollars.